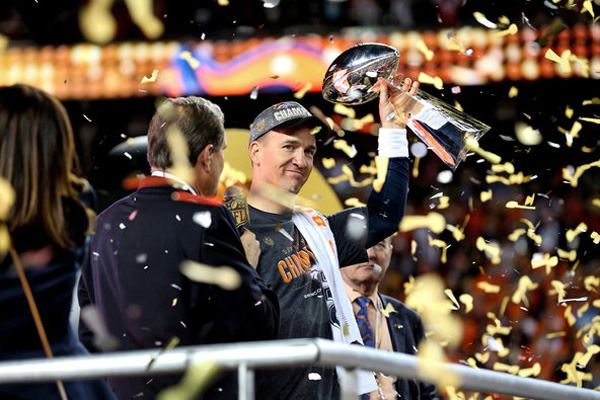 Doug Mills / The New York Times
Congrats to Peyton Manning
and the Denver
Broncos
for winning the Big Game, 24-10, at Levi's Stadium today! Word has it that this may be Manning's last rodeo before riding off into the sunset after having an illustrious NFL career that now includes two Super Bowl titles. If Manning
is
thinking about retiring, all I can say is...
do it!
Like his predecessor John Elway, who won two straight NFL championships in 1998 and '99 before calling it quits as the Broncos' main quarterback, Manning should take advantage of the fact that this can be a fairy tale ending
(sorry for the cliché)
for him after playing a season that was fraught with injuries to the 39-year-old player.
That,
and the fact that it would be
quite
unfortunate if he made it to another Super Bowl, only to be blown out like what happened against the Seattle
Seahawks
in 2014
(the Broncos got routed by Pete Carroll's team in Super Bowl XLVIII, 43-8)
.
Another reason why Manning should hang up his cleats: He should avoid Kobe Bryant's present situation.
(Supposedly, Manning and Bryant are good pals.)
Kobe is about two months away
from ending an NBA career
that resulted in 5 championships and numerous All-Star Game appearances with the L.A.
Lakers
. Unfortunately, the Black Mamba is doing so while playing on what is without a doubt one of
the
worst squads in Laker team history. Kobe will be hanging up his jersey without playing another NBA postseason game ever again. He's ending his career like how Michael Jordan did when he left the Washington
Wizards
and retired for good in 2004
(the Wizards failed to make the playoffs in the two seasons that MJ was on this team)
, not how Jordan retired from the Chicago
Bulls
after making that game-winning shot
(we'll overlook that push-off against Bryon Russell)
against the Utah
Jazz
in Game 6 of the 1998 NBA Finals. The gist of this post: Manning needs to end his career as a winner...not as a phenomenal athlete who played for one too many years and was forced to leave because age and injuries dictated it
(cough-Brett Favre-cough)
. That is all.