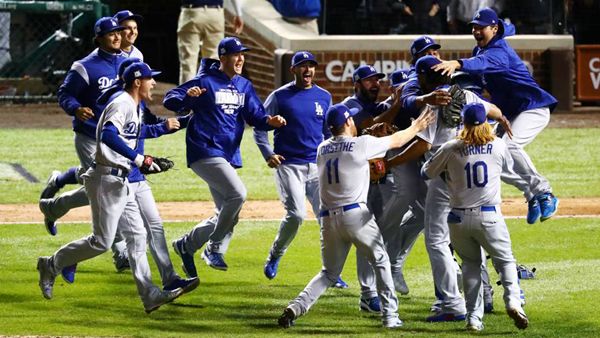 Getty Images
29 years after winning
their last championship at the expense of the Oakland
A's
, the Los Angeles
Dodgers
are headed back to the Fall Classic after laying a smackdown on the Chicago
Cubs
, 11-1, in Game 5 of the National League Championship Series at Wrigley Field tonight. Game 1 of the World Series takes place at Dodger Stadium next Tuesday, October 24, against the winner of the American League Championship Series. So by either tomorrow night or Saturday evening, the
Los Doyers
will be prepping to play the Houston
Astros
or the New York
Yankees
in the final round. Chances are, the head honchos at Major League Baseball's main office are hoping it's the latter. Gotta make that dough and the high TV ratings, ya know...
I'm an
Angels
fan, but being a proud California native who's attended every
Lakers
parade since 2000 and both parades for the L.A.
Kings
in 2012 and 2014, respectively, I'll root for any team that continues to make SoCal—and Los Angeles in general—the championship capital of this nation. Keep in mind that the Los Angeles
Sparks
were so close to winning a WNBA title against the Minnesota
Lynx
a little over two weeks ago
(the Lynx clinched the championship in Game 5 of the WNBA Finals...which took place on my birthday, October 4)
.
Assuming that the Dodgers win it all by November 1st
(which is when a Game 7 would be played—in Los Angeles)
, the
Clippers
will be the only team in the City of Angels to
not
win a championship since the start of this century
(the Rams and the Chargers are excluded...for now)
. I'll wait till the outcome of the World Series to pour haterade on the only title-less team to
currently
play inside STAPLES Center in downtown Los Angeles. That is all.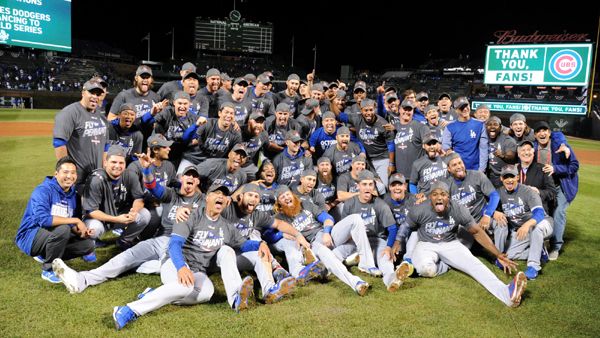 Wally Skalij / Los Angeles Times