NASA / Johns Hopkins University Applied Physics Laboratory / Southwest Research Institute
Getting closer and closer...
Today marks the first of two days that NASA's
New Horizons
spacecraft will transmit 'Fail Safe' data and photos to Earth prior to this Tuesday's historic flyby of the dwarf planet Pluto. The Fail Safe data was planned by the flight team just in case New Horizons doesn't survive the July 14 encounter
(God forbid)
. Here's hoping that won't be the case! The three images below show the spacecraft's current location in relation to Pluto and its five moons, as well as the rest of our solar system. The image above was taken yesterday, and shows the side of Pluto that won't be seen again until mankind sends another robotic emissary
(I'd also mention astronauts, but let's be realistic here)
to the distant world.
NASA / Johns Hopkins University Applied Physics Laboratory / Southwest Research Institute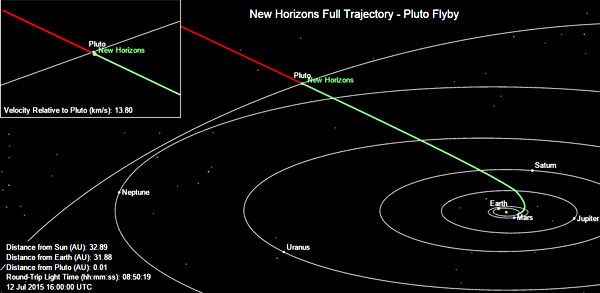 NASA / Johns Hopkins University Applied Physics Laboratory / Southwest Research Institute
NASA / Johns Hopkins University Applied Physics Laboratory / Southwest Research Institute