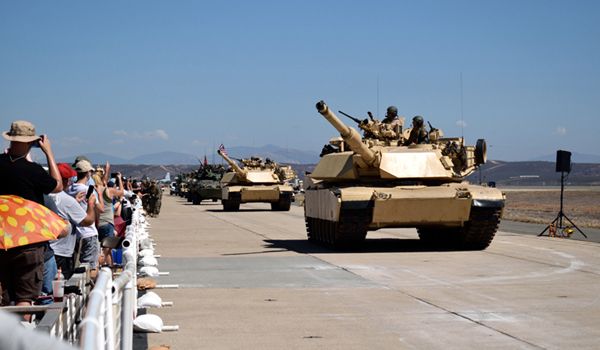 As stated
in
this previous entry
from yesterday, I was going to post photos that I took of the
M1A1 Abrams
battle tanks that made an appearance at the
Miramar Air Show
this past weekend. As mentioned in my preceding post, I geeked out when this armored behemoth came rolling down the tarmac during a combat demo held on the airfield at Marine Corps Air Station Miramar in San Diego, California. I first heard about the M1A1 during
Operation Desert Storm
in January of 1991
(I was in 5th grade at the time, FYI)
...and was in such awe of this badass piece of weaponry that I bought a book about it at my local mall—
yes,
I still have it—and played a video game titled
Super Battle Tank
for my
Super Nintendo Entertainment System
in 1992
(the game was fun to play...despite it having a crappy ending)
. It comes to show you how formidable the Abrams is that the U.S. military still uses it almost 30 years later.
Of course,
the U.S. Air Force has been flying the
B-52 Stratofortress
bomber for about 66 years now
(and plan to utilize the aircraft for a
full century
)
, so that's probably not as noteworthy as I made it out to be.
Most of the photos in this entry were taken with my Nikon D3300 DSLR camera
(the images of me posing with the Abrams were shot with my smartphone)
. I plan to share pics that I took of the
Blue Angels
and regular
F/A-18 Hornets
in San Diego next! Happy first day of October.