JAXA
Ryugu Seen From a Distance of 1500km (Press Release)
Hayabusa 2
is continuing to approach asteroid Ryugu using optical navigation. Figure 1
(above)
shows Ryugu photographed by the ONC-T
(Optical Navigation Camera - Telescopic)
on June 10, 2018, from a distance of about 1500km. The celestial body shining brightly in the center of the image is Ryugu. Compared with
images taken on June 6,
the position in the sky
(relative to background stars)
where Ryugu is visible has changed. The astronomical magnitude of Ryugu is now -5.7 mag.
Figure 2
(below)
shows a photograph taken at approximately the same time but using an exposure of about 0.09 seconds. Here, only Ryugu is imaged as a point and the background stars are now too faint to be seen. In expanding the section of image that contains Ryugu, the asteroid can be seen to have a diameter of about 5 or 6 pixels but this is still not sufficient to see the shape. However, from this image is does seem that Ryugu is not elongated like Itokawa.
Hayabusa 2 will continue to draw closer to Ryugu. Please keep following us for future images!
Source:
Japan Aerospace Exploration Agency
****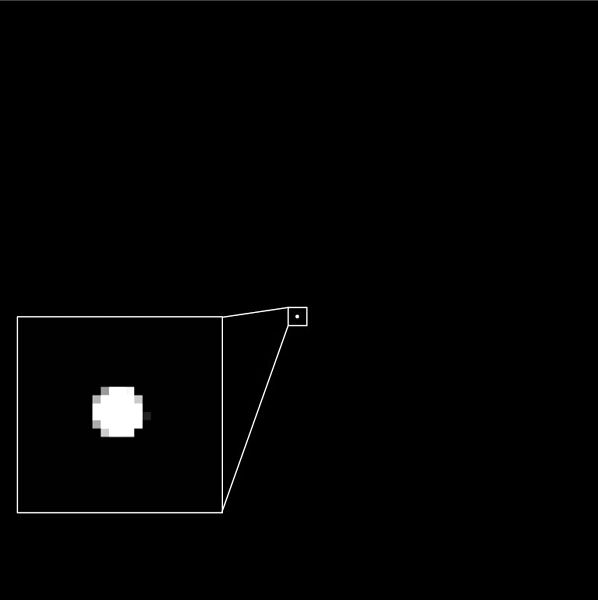 JAXA