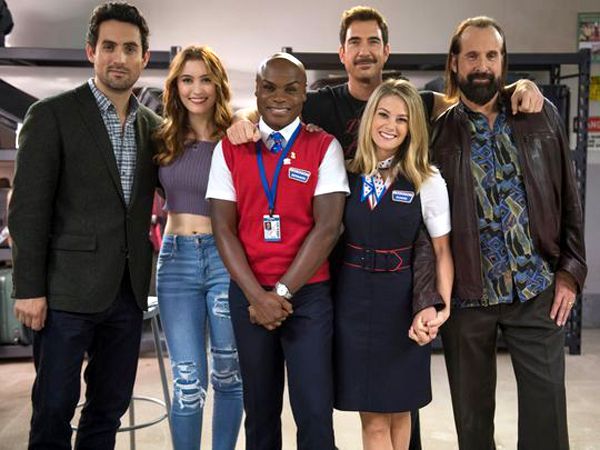 So what's the word
on this show's chances of being renewed for a second season? I watched the season
(hopefully not series)
finale of
LA to Vegas
yesterday, and needless to say, I wanna see more wacky exploits by these
Jackpot Airline
(
no,
it's not a real airline)
employees. It's hilarious to see Peter Stormare
(of Armageddon, Prison Break and John Wick 2 fame)
once again sporting a Russian accent but not being a homicidal criminal on this sitcom. And ditto with Dylan McDermott—who went from being a traitorous former Secret Service agent in the 2013 film
Olympus Has Fallen
to playing Jackpot Airlines' goofy pilot Captain Dave. Olivia Macklin is Nichole...a beautiful Vegas stripper with a heart of gold
(like Vivica A. Fox in 1996's Independence Day)
, while Kim Matula and Nathan Lee Graham portray Ronnie and Bernard, the crazy duo who keep life aboard their Jackpot airliner from descending into chaos during the flights from Los Angeles to Las Vegas, and vice versa. And to round out the cast: Amir Talai plays Captain Dave's bumbling co-pilot Alan, and Ed Weeks portrays Colin; a divorced father of one who should finally get things goin' with Ronnie if LA to Vegas sees another season.
So
yea,
while LA to Vegas has ways to go before it replaces
The Big Bang Theory
as my all-time favorite sitcom
(unless TBBT
does
end after Season 12 as rumored)
, it's a hilarious TV show that I try not to miss on Tuesday nights. I might also be biased here; I worked as a background actor on the show at Fox Studios last fall! You can see me as the blur wearing a dark-gray short-sleeved shirt and jeans
(and carrying that large black bag)
in the screenshots below. They're from episode 1.5:
The Fellowship of the Bear
, which aired on February 6. Anyways, did I mention that Nichole is so beautiful? Just thought I'd say it again. Happy Hump Day.