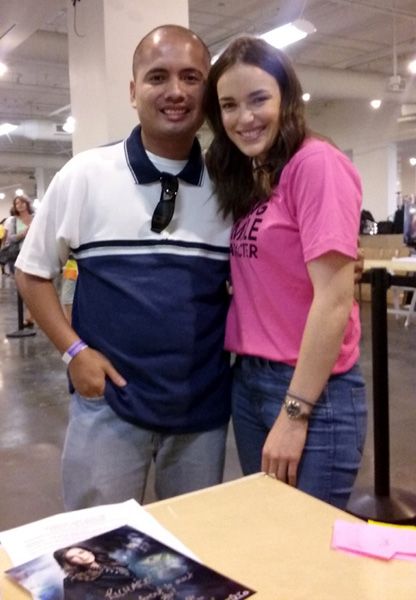 Back in February,
I met actresses Ming-Na Wen and Katrina Law at
The Reef
in downtown Los Angeles.
Ming-Na, as you know, plays Agent Melinda May on
Marvel's Agents of S.H.I.E.L.D.
while Katrina Law portrayed Nyssa al Ghul in DC Comic's
Arrow
on The CW Network. Earlier today, I met Elizabeth Henstridge, who plays Agent Jemma Simmons on Agents of S.H.I.E.L.D., and Allison Paige, who played the villainous Trajectory on CW's
The Flash
. My point? It was so cool to meet Ms. Henstridge, who was the last of the three main heroines of S.H.I.E.L.D. who I wanted to meet and take a photo with
(the third heroine, after Agents May and Simmons, being Agent Daisy Johnson/Quake...who's played by Chloe Bennet. I met her in Long Beach last September)
. I would
also
include Adriane Palicki, who plays Mockingbird, but she joined Marvel's hit TV series during Season 2...and she's
pretty darn
tall in person
(at 5'9")
. Won't mention how tall
I
am—but let's just say that any photo with her, unless she's sitting down, won't look as good as the pic of me and Henstridge above.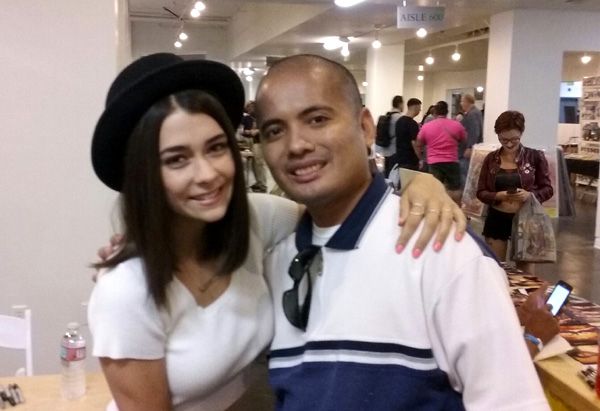 Allison Paige is the fourth actress I met who appeared in two of The CW Network's hit comic book TV shows. Along with her and Katrina Law, I also met Danielle Panabaker
(who's on The Flash)
and Summer Glau
(who appeared on Arrow)
at Stan Lee's
Comikaze
expo
last October.
The one actress who I wanna meet now is Melissa Benoist...who plays
Supergirl
. Hopefully, she'll someday do an autograph signing/photo op here in Los Angeles, considering that Supergirl now films in Vancouver, Canada
(it used to shoot in L.A., with its main soundstages being at Warner Bros. Studio in Burbank)
, and switched channels from CBS to The CW after last season. I'll cross my fingers.