So yesterday afternoon,
I drove down to the Long Beach Convention Center to get my geek on at the LBC's very own
Comic Con
. I didn't go because I wanted to be in a room full of cosplayers dressed as
Deadpool
, Boba Fett, Stanley Ipkiss
(Jim Carrey's character in 1994's The Mask)
or Batman
(yes, the Ben Affleck version from next year's Batman v Superman: Dawn of Justice)
, but I attended the show to meet two lovely actresses from a pair of my current favorite TV shows. The first one I met was Lindsey McKeon, who played Tessa
(a 'Reaper')
on the long-lived CW Network TV series,
Supernatural
. The second actress I took a pic with was Chloe Bennet...who plays Skye
(whose real name is Daisy Johnson and is now known as Quake, a so-called Inhuman)
on the hit ABC TV show,
Marvel's Agents of S.H.I.E.L.D.
Ms. Bennet was originally supposed to appear at 1:00 PM but instead arrived at 5:30 PM for a photo op event at Comic Con. Thank God for the change though; Chloe showing up at the earlier time probably would've prevented me from meeting Lindsey
(can't call her Ms. McKeon now since she got married two years ago—to a dude named Brant Hively)
first. A long line formed about an hour before Bennet's photo op was supposed to begin. Everything worked out!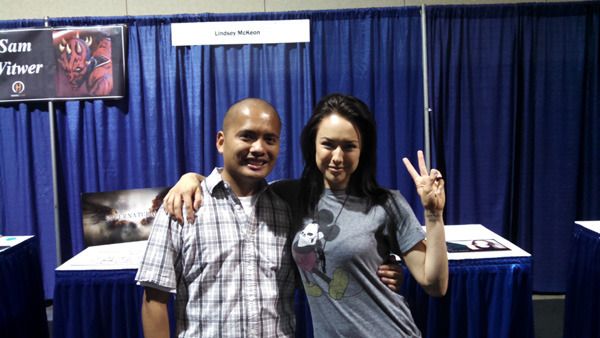 Unlike the
Star Wars Celebration
in April and Disney's
D23 Expo
last month
(I was thinking about attending this one but changed my mind)
, there were no new news at Comic Con pertaining to
Star Wars: The Force Awakens
...which opens in theaters 95 days from now
(94 if you live in the UK; bastards)
. The only sign at the Long Beach Convention Center that
Episode VII
will soon be upon us were the two First Order Stormtroopers
(shown towards the bottom of this entry)
milling about inside the main showroom, and a booth that sold some Force Awakens merchandise. It's all good. I'm just wondering when J.J. Abrams will reveal the next trailer for the 7th live-action Star Wars installment, and in front of which film?
Yea,
I'm too lazy to go to Google and see which movies
(other than the next Paranormal Activity film, Steven Spielberg's Bridge of Spies and the very last Hunger Games flick)
are coming out this October and November. Carry on.