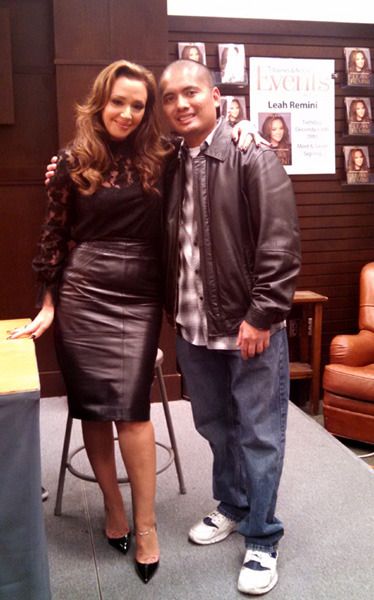 Today and yesterday,
I drove down to
The Grove
near Beverly Hills to attend autograph signings
(held in the
Barnes & Noble
bookstore there)
by singer/actress Katharine McPhee and actress Leah Remini. McPhee
(who was the Season 5 finalist of American Idol in 2006 and now appears in the CBS TV series Scorpion)
promoted her new CD album
Hysteria
last night, while Remini
(who was in the long-running CBS sitcom King of Queens and such films as the 2003 Will Ferrell comedy Old School)
did signings for her new book
Troublemaker
a few hours ago. Personally speaking, my favorite pic from the last two days is the one that I took with Remini...even though I only said 'hi' to her when I finally walked up to her table. McPhee struck a brief conversation with me
(she asked me where I was from; we're both born and raised in Los Angeles)
, but the fact that she's three inches taller than me
(plus she had high heels on) kinda
made me wish that she was sitting down when the photo below was taken. Oh well. All that matters is that I had the opportunity to meet these two awesome ladies in person and that I wish them the best of luck in future endeavors. Carry on!