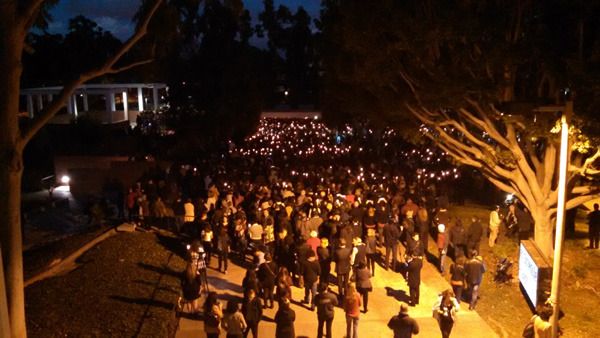 Just a few hours ago,
I drove down to Cal State Long Beach, my college alma mater, to attend a vigil for Nohemi Gonzalez at the campus' University Student Union. Gonzalez was one of 129 people who sadly lost their lives in the Paris terrorist attacks two days ago. Around 2,000 attendees—which included Nohemi's classmates, her family and friends, faculty and staff members, alumni
(like myself)
and foreign dignitaries—were on-hand to hear about what a bright and ambitious student Nohemi was at CSULB before traveling to Paris to study there for a semester. It completely struck a nerve with me that a prodigious industrial design student who attended the same school as me would be a victim of such a senseless tragedy. As shown in the photo above, Ms. Gonzalez's family should take solace in the fact that there were so many people who showed up today to support them in this time of sadness. Rest In Peace, Nohemi... I didn't know you personally, but the stories told this evening by the people who
did
indicate that you're someone who would've left a positive mark on my life if we met. Farewell.