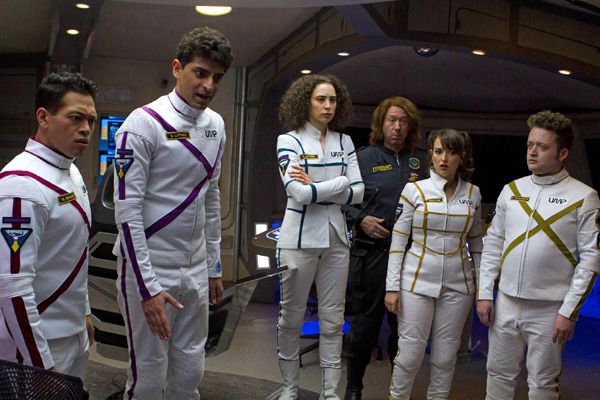 I just found out recently
that
Yahoo!
has decided
not
to renew Paul Feig's hilarious sci-fi web series
Other Space
for a second season. Such a shame... We'll never find out who was after that alien who hitched a ride aboard the
UMP Cruiser
at the end of Episode 8
(the series finale)
and why. Or—if the ship's main computer Natasha
(Conor Leslie)
and Kent Woolworth
(Neil Casey)
managed to live happily ever-after upon their eventual return to Earth.
Or
—if Stewart Lipinski
(Karan Soni)
finally won the heart of Tina Shukshin
(Milana Vayntrub)
, and they left the Universal Mapping Project to start a new life together in a quiet, rural part of Uzbekistan. So many things left unresolved...
I guess this will be the only drawing I make of the hilarious characters who will forever be lost in that alternate universe...eating nothing but chocolate and randomly giving Michael Newman
(Eugene Cordero)
a hard time. That is all.