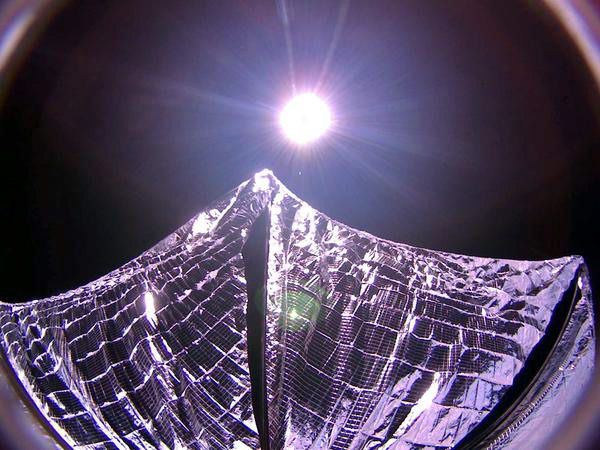 The Planetary Society
Bill Nye & Planetary Society Celebrate LightSail™ Test Mission Landmark (Press Release - June 7)
Data indicate citizen-funded spacecraft deploys solar sail, milestone for test path toward 2016 mission
Pasadena, CA (June 7, 2015) --
After 19 days on orbit, data indicate that The Planetary Society's
LightSail™
spacecraft deployed its Mylar® solar sail in space. More information will be downloaded, analyzed and publicized in days to come, including possible images. A post-deployment press conference will occur following an initial data analysis period. Today's deployment marked a milestone for the mission to test LightSail's critical functions in low-Earth orbit, a precursor to a second mission set for 2016. Bill Nye
(The Science Guy®)
, CEO at The Planetary Society, celebrated the landmark and stated:
"We couldn't get signals to and from our LightSail on the first orbital pass, so we tried again on our next orbit— and it worked! We've learned a lot about perseverance on this test mission. Although it's in inertial space, LightSail has had me on a rollercoaster. I want to thank the engineering team; they've done fantastic work. I especially want to thank our supporters and members, who made this success possible. We are advancing space science and exploration. This mission is part of our mission."
The Planetary Society's solar sailing involvement was started by Society co-founder Louis Friedman more than a decade ago. The spacecraft was designed by Stellar Exploration, Inc., in San Luis Obispo, Calif. LightSail's lead contractor for integration and testing is Pasadena, Calif.-based Ecliptic Enterprises Corporation, a space avionics and sensor systems firm best known for its popular RocketCam™ family of video systems used on rockets and spacecraft. The spacecraft has ground stations at California Polytechnic State University San Luis Obispo and Georgia Tech. The LightSail project is managed by Doug Stetson, founder and principal partner of the Space Science and Exploration Consulting Group. Boreal Space and Half-Band Technologies are contractors to Ecliptic.
Celebrating 35 years, The Planetary Society has inspired millions of people to explore other worlds and seek other life. With the mission to empower the world's citizens to advance space science and exploration, its international membership makes the non-governmental Planetary Society the largest space interest group in the world. Carl Sagan, Bruce Murray and Louis Friedman founded the Planetary Society in 1980. Bill Nye, a longtime member of the Planetary Society's Board, serves as CEO.
Source:
The Planetary Society
****