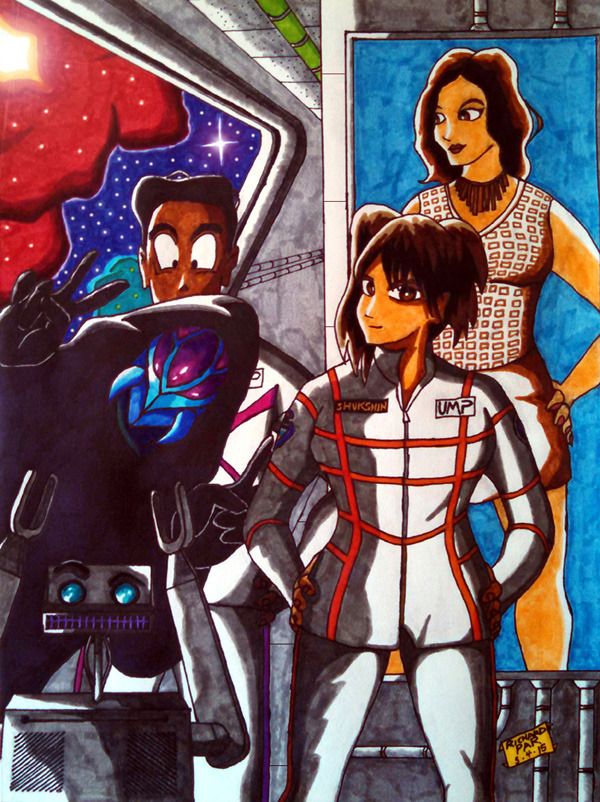 Just thought
I'd share this anime-style drawing that I made two days ago of a few characters from the hilarious
Yahoo! web series,
Other Space
. If you watched all 8 episodes of Paul Feig's brilliant new sci-fi comedy, you'd get the sentiment behind what's going on in this artwork. And if you don't, well it's all good. Tina Shukshin
(played by Milana Vayntrub)
strikes a pose while Captain Stewart Lipinski
(portrayed by Karan Soni)
—in his attempt to pose alongside his navigator/longtime crush—gets photobombed
(art-bombed? Hm.)
by Art
(the bathroom-crazed robot voiced by Mystery Science Theater 3000's Trace Beaulieu)
and the alien
(Sarah Baker)
that the crew of the UMP
(Universal Mapping Project) Cruiser
encounter in the last two episodes of the season. Looking on is Natasha
(Conor Leslie)
, the ship's sultry on-board computer who has a thing or two for trendy wardrobe
(though you couldn't tell that by the design I gave it in this artwork, hah)
. I used my Android smartphone to take a picture of this drawing since my computer scanner is a piece of crap that overexposed the illustration and brought out unwanted details in it
(as seen below)
. Anyways, here's hoping that there will be a second season for Other Space... Make it happen, Yahoo! Happy Hump Day, folks.