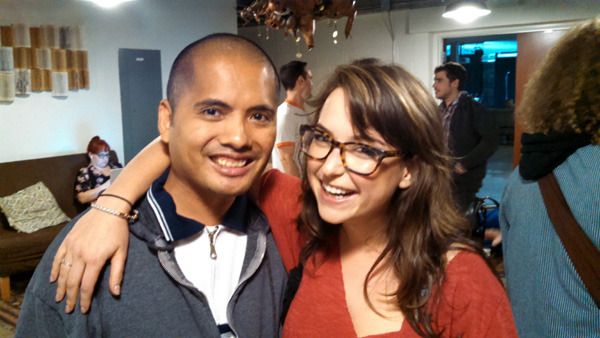 So last night,
I finally got to meet the very beautiful and talented Milana Vayntrub...who performed two hilarious skits at the
Inner Sanctum Cafe
in Hollywood. For those of you who don't know who Milana is
(AS IF!)
, she appeared on such TV shows as
Californication
,
House of Lies
and
Silicon Valley
. Oh, and she's been playing the charming Lily Adams on AT&T commercials for about a year now. But her most recent work can be seen on the
Yahoo! web series
Other Space
—which is created by Paul Feig, the director behind the hit film
Bridesmaids
and the upcoming
Ghostbusters
reboot.
(Milana's Other Space co-star Neil Casey was on-hand to perform the skits with her yesterday.)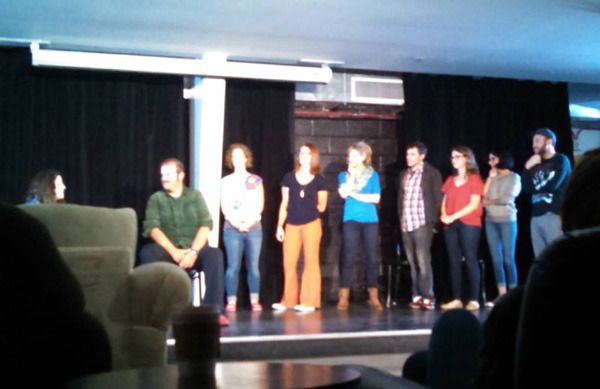 I'm quite relieved that I finally met Ms. Vayntrub! Considering how popular she's becoming by the day, I was afraid that the only way to meet her would be to attend a book signing
(like I did with Jessica Alba in March of 2013)
or to go to a comic book expo
(as in the case with Alyssa Milano in November of that same year)
and dish out some cash! Thank God that's not the case
(though I
did
have to pay $5 for parking last night)
. Oh, and check out Other Space now! It's
totally
hilarious
(Tina Shukshin is the name of Milana's character on the show, FYI)
... Probably my second favorite sci-fi-themed, geeky comedy behind
The Big Bang Theory
. Carry on.