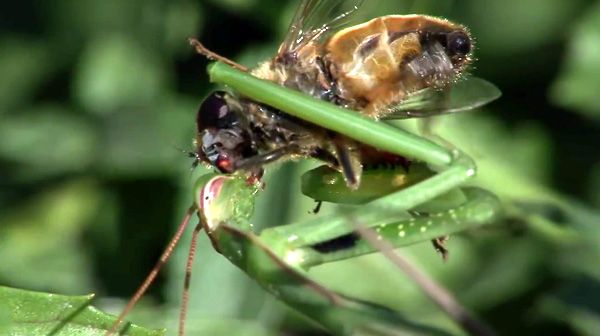 francischeefilms
Just to get right
to the point, for random reasons I started watching various video clips on Youtube showing praying mantises mercilessly and nonchalantly devouring their prey. One clip showed a mantis chewing a live salamander in half
(Google it)
, other ones showed a female mantis chewing the head off a male mantis as it mated with her
(Google those as well)
. But the more interesting videos, shown below, show the mantis chewing on hapless bees and flies that foolishly flew too close to this awesome predator. My favorite clip is the one that's depicted in the screenshot above—which shows a member of Mantodea happily chewing the face off a fly caught tightly in its two forelegs.
Apparently
, this fly is the insect equivalent of
Kentucky Fried Chicken
to the mantis...and
yes,
I mean that in a good way. I love
KFC
... It's finger lickin' good.
(That's what she said—or he said, depending on what kind of smut you look at online.)
________________________________________________________________________
Praying Mantis Eats Fly Alive
________________________________________________________________________
Huge Mantis Eat Two Bees at One Time
________________________________________________________________________
GLASS Mantis! (Pink & Blue) Eats
________________________________________________________________________
Praying Mantis: International Bug of Mystery (2009)