Just thought I'd share this cool animated GIF
that I found online showing L.A.
Kings
goalie Jonathan Quick doing a scorpion kick to block the puck
(shot by the Winnipeg Jets' Blake Wheeler)
as Los Angeles beat the Jets, 4-2, at STAPLES Center yesterday. This awesome defensive move isn't uncommon in National Hockey League games, but this highlight by Quick shows why the Kings are still a formidable team to beat almost two years after they won
their first title
in the Stanley Cup Finals. Hopefully, we'll see Quick and company making more memorable plays like this come June—if you're a hockey-loving Angeleno, that is. Or an Anaheim
Ducks
fan who jumped ship
(because you
just
don't want to root for a team that's currently ranked 1st in the NHL's Pacific Division)
... Carry on.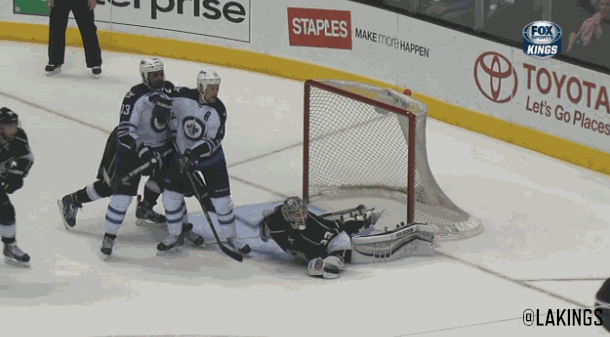 Los Angeles Kings / FOX Sports