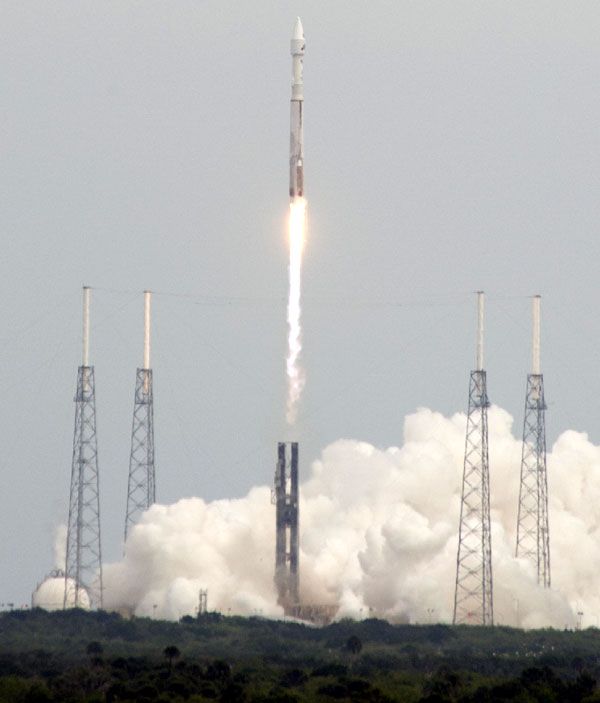 NASA
At 10:28 AM, Pacific Standard Time today,
an
Atlas V
rocket carrying NASA's Mars-bound
MAVEN
orbiter was launched from Cape Canaveral Air Force Station in Florida. After a near-flawless flight where the only issue was weather conditions that could've caused the Atlas V to trigger lightning as it flew through a cloud layer right after lift-off
(violating a so-called Field Mill Rule that NASA and the U.S. Air Force have in their 'launch commit criteria' list)
, MAVEN separated from the Atlas almost an hour after departing from its Florida pad...and is now on a 10-month interplanetary journey that will culminate with the orbiter arriving at the Red Planet on September 22, 2014.
NASA
Although MAVEN does not have any cameras with which to photograph Mars during its mission, it has a suite of instruments that will hopefully determine what caused the Red Planet to lose much of its atmosphere over the past millions of years or so. Just as integral to this flight is the fact that MAVEN carries a telecommunication system that will allow it to relay data from the
Curiosity
and
Opportunity
rovers
(as well as future landers)
on the Martian surface. It was actually this crucial capability that MAVEN possessed which allowed it to proceed with launch preparations during the U.S. government shutdown
last month.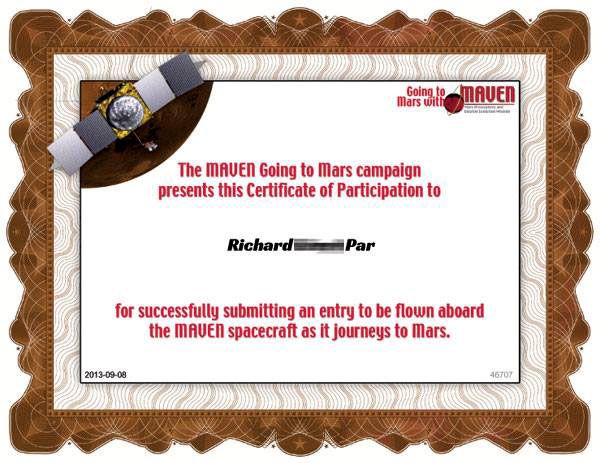 Just like the now-silent
Phoenix
Mars lander, aboard MAVEN is a DVD bearing the names of scores of Earthlings
(including mine)
who wanted to hitch along for yet another ride to the Red Planet.
In fact,
the DVD contains 100,000 monikers as well as artwork and space-related Japanese haiku that were submitted through the Internet earlier this year. Even though MAVEN's orbit will gradually decay and the probe will burn up in Mars' atmosphere after its mission has long come to an end, I'm glad that NASA provided another public relations opportunity with this project. Since no images will come from MAVEN, the space agency has to find some other way
(excluding the promising science)
to capture people's imagination with this latest Martian endeavor...before we get to see black and white photos that will be taken by the
InSight
lander
(set to launch to the Red Planet in 2016)
and gorgeous high-resolution pictures taken by Curiosity's twin rover—
set to take off
in 2020. Carry on.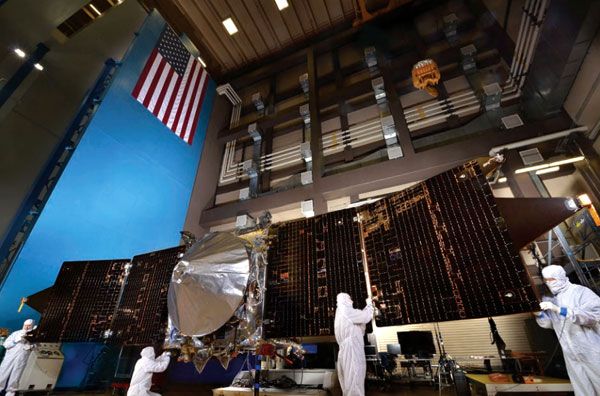 NASA / Lockheed Martin