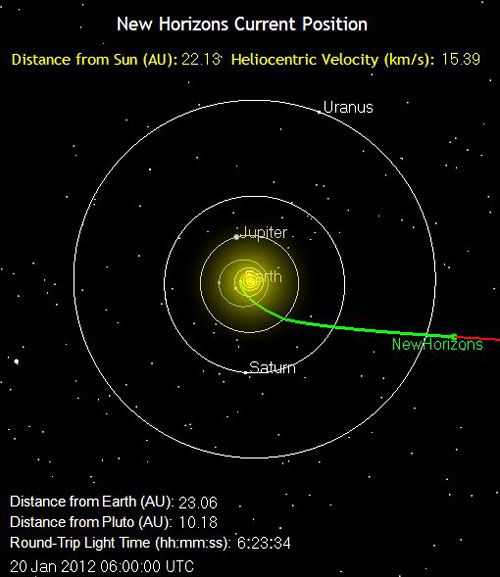 ABOVE: The green line marks the path traveled by the New Horizons spacecraft as of
10:00 PM, Pacific Standard Time, on January 19, 2012. It is 2.1 billion miles from Earth.
Click
here
to view the official webpage showing where New Horizons is in space.
(AU stands for Astronomical Units, in case you're wondering.)
New Horizons Update...
Yesterday marked the 6-year anniversary since the
New Horizons
spacecraft
was launched from
Cape Canaveral Air Force Station in Florida on a 9-year journey to Pluto. This month also marks 3 years before the Pluto encounter phase of the mission officially begins in January of 2015. New Horizons is now in "Late Cruise"...with the last milestone before its final approach to the dwarf planet being New Horizons' crossing of Neptune's orbit on August 25, 2014—exactly 25 years after
Voyager 2
made its historic flyby of the gas giant.
New Horizons' closest approach to Pluto will be on July 14, 2015. Can't wait!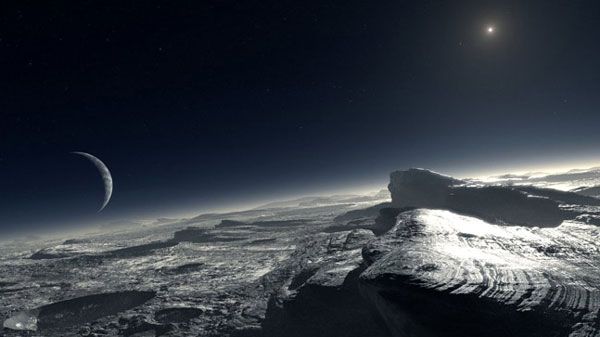 ESO / L. Calçada
NEW HORIZONS Blog Entries Archive:
September 26, 2005
December 19, 2005
January 7, 2006
January 17, 2006
January 19, 2006
April 12, 2006
June 15, 2006
February 27, 2007
October 22, 2007
June 8, 2008
October 23, 2008
March 18, 2011
January 20, 2012