Matt Slocum / Associated Press
A note to the Los Angeles Doyers:
If you need motivation to return to the Fall Classic next year, look no further than to the 2015 Kansas City
Royals
. The Royals lost to the San Francisco
Giants
in the 2014 World Series, only to return the following year and defeat the New York
Mets
in five games. But if the
Dodgers
do
make it back to the championship round in late 2018, here's a bit of advice:
DO NOT
start a World Series game with Yu Darvish at the pitching mound
(assuming that he'll still be part of the team next April)
. Even if he
wasn't
bothered by the racist gesture of the Houston
Astros'
Yuli Gurriel in Game 3
(which he clearly was)
, Darvish would've
still
faltered like he did in the first few innings of Game 7 tonight. Asians don't generally do well in high-pressure situations
(
otherwise,
I would be sleeping right now before I wake up for that 9-to-5 fast-paced corporate office job tomorrow, as opposed to being a freelance blogger and photographer who took the week off from my freelance background acting job due to medical reasons—and hoping that there would've been a Dodgers parade to attend in downtown L.A. this Friday)
, particularly in American professional sports. It didn't help that the Dodgers started an Asian during the
most important
game of the American pastime!
Anyways, congrats to the Astros. Like the New Orleans
Saints
—who won the Super Bowl almost five years after their city was ravaged by Hurricane Katrina in 2005—Justin Verlander and Co. had the city of Houston rally behind them two months after it was devastated by Hurricane Harvey. What a great way to lift up the spirits of those who went through this devastating natural disaster. And speaking of Verlander,
not only
is he now a World Series champ, but he's set to marry supermodel Kate Upton
in Italy this weekend.
I despise him more than Gurriel... I kid. I despise him
as much
as I do that Cuban
(insert any insult here)
. Carry on.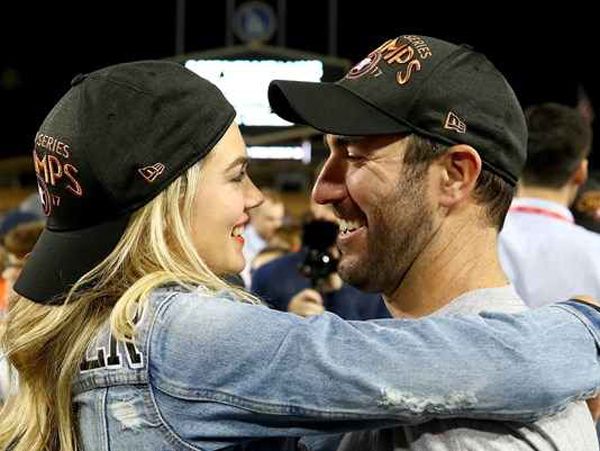 Ezra Shaw / Getty Images, 2017 Getty Images