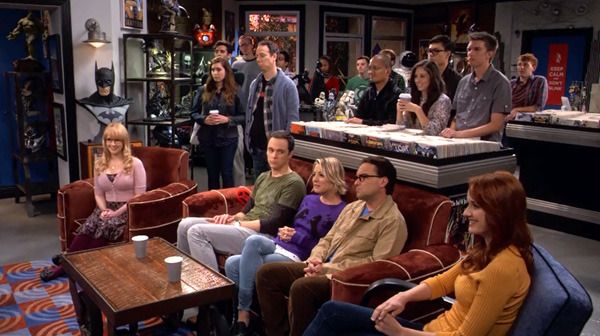 Almost four hours ago,
an episode of
The Big Bang Theory
that I was lucky enough to be an extra on finally aired on CBS. Titled "The 2003 Approximation," this episode featured Howard Wolowitz
(Simon Helberg)
and Raj Koothrappali
(Kunal Nayyar)
creating a band known as
Footprints on the Moon
after Stuart
(Kevin Sussman)
mentioned to the duo that he wanted live music for his comic book store to give it a "staying in business" vibe. As their first song, Howard and Raj came up with a power ballad known as "Hammer and Whip: The Untold Story of Thor vs. Indiana Jones." After Raj first previews the song to his girlfriend Emily Sweeney
(played by Laura Spencer)
, he and Howard played it in front of a larger comic book store audience—which included Leonard Hofstadter
(Johnny Galecki)
, his new wife Penny
(Kaley Cuoco)
, Sheldon Cooper
(Jim Parsons)
, Howard's wife Bernadette
(Melissa Rauch)
and Emily. While the chorus "Thor and Dr. Jones" was amusing enough to make even Penny grin, the song still wasn't catchy enough to prevent Stuart from asking Footprints on the Moon to "play something we can dance to."
Ever since I started doing background acting work four years ago, I've always wanted to work on The Big Bang Theory. Considering the fact that not only did I finally get booked on this show
(this episode was filmed at Warner Bros. studio in early September)
, but I actually got to be in a scene that featured all but one of the main cast members
(Mayim Bialik, who plays Amy Farrah Fowler, wasn't in this scene)
, made this opportunity even sweeter. And "Hammer and Whip" was much funnier to listen to in person
("Thor and Dr. Jones" was stuck in my head for the rest of that day)
; Kunal Nayyar and Simon Helberg are both very talented in playing a guitar and keyboard, respectively.
The Big Bang Theory is one of the coolest shows that I've ever worked on. Not only is the cast really nice and cool, but so is the crew as well
(the fact that this sitcom will officially last at least one more season would put me in good spirits too)
. A worse-case scenario if I never got to step on set for this show would've been me signing up to be in the audience for a live taping in Burbank. Obviously, it didn't come down to that. After our scene
(known as the
tag,
since it came right before the end credits)
was filmed, the main cast took a group photo. Would've been cool if the background actors got to be close to the camera too, but it's all good. We just photobombed the pic instead! Bazinga.