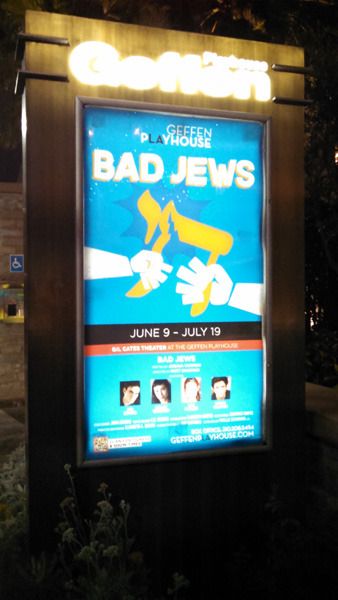 So a few hours ago,
I drove down to the
Geffen Playhouse
to attend another showing of the play
Bad Jews
before its run came to an end at the Los Angeles theater today
(it was originally supposed to end on July 19)
. Needless to say, this show was just as enjoyable tonight as it was when I watched it
more than a month ago!
As mentioned in the link that I just provided, Molly Ephraim
(as Daphna Feygenbaum)
had such great lines to work with...while I realized tonight that Liam Haber
(portrayed by Ari Brand)
had equally witty dialogue as Daphna's nemesis.
(One memorable line was when Liam joked that Daphna wanted to be an "Uzi-toting Israeli warlock superhero" because of her strong devotion to Judaism.)
In my previous entry, I pointed out that Raviv Ullman
(who played Liam's brother Jonah)
didn't have as much to work with as his three co-stars
(the third thespian being Lili Fuller, who played Melody)
. I was wrong. Don't know if he was given more lines since the June 10 preview that I watched, but it became more apparent that Jonah was the level-headed family member who wanted to avoid conflict and bring peace among his kin
(which was pretty much a failure if you watched the show)
. Liam and Daphna's goals were to hold onto or obtain an old family heirloom known as the 'Chai,' no matter what it took, while Jonah "didn't want to get involve" with his kin's dogged pursuit of that MacGuffin
(Google this term)
. Melody's goal was also to bring peace between Liam
(her boyfriend)
and Daphna as well, but her attempt—just like those of Jonah—would cause the situation to become worse and inevitably lead to Bad Jew's
both
humorous and tumultuous climax.
Will I ever watch another show at the Geffen Playhouse, you ask? That's a good question. If Molly Ephraim gets cast in another show at this venerable theater, then
definitely.
Other than that, we'll see what the future holds. By the way, tonight marked the second time I parked at the wrong structure for this show
[I paid $7 (just like on June 10) instead of the $4 that I
would've
dished out if I parked at the garage that was mentioned on my printed ticket for Bad Jews]
. Oh well.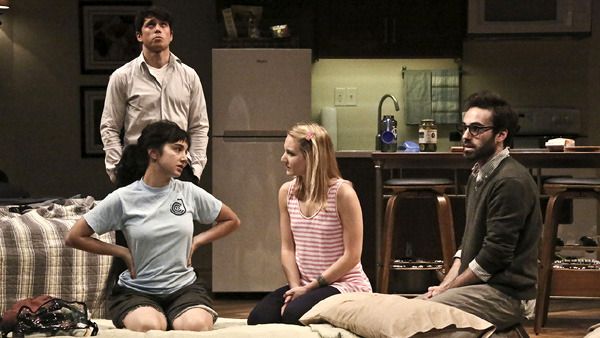 Michael Lamont - Hollywood Reporter