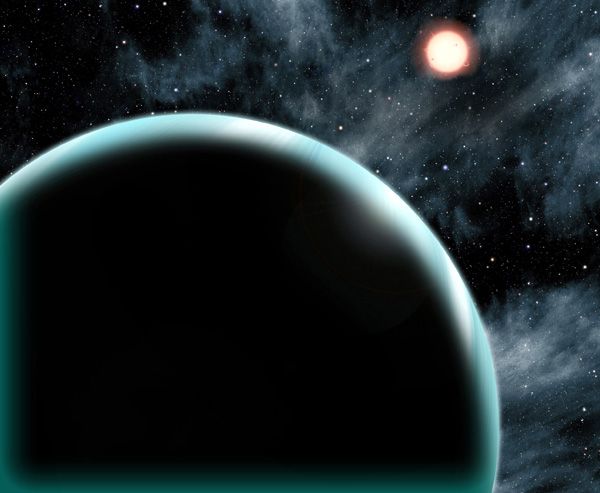 Harvard-Smithsonian, Center for Astrophysics / D. A. Aguilar
Astronomers Discover Transiting Exoplanet with Longest Known Year (Press Release)
Astronomers using NASA
Kepler
data have discovered a transiting exoplanet with the longest known year. Kepler-421b orbits its star once every 704 days. In comparison, Mars orbits our sun once every 780 days. Most of the more than 1,800 confirmed exoplanets discovered to date are much closer to their stars and have much shorter orbital periods.
"Finding Kepler-421b was a stroke of luck," says lead author David Kipping of the Harvard-Smithsonian Center for Astrophysics. "The farther a planet is from its star, the less likely it is to transit the star from Earth's point of view. It has to line up just right."
Kepler-421b orbits an orange, K-type star that is cooler and dimmer than our sun and is located about 1,000 light-years from Earth in the constellation Lyra.
The newly confirmed world circles the star at a distance of about 110 million miles. As a result, this Uranus-sized planet is chilled to a temperature of -135 degrees Fahrenheit
(-93 degrees Celsius)
.
This research has been accepted for publication in
The Astrophysical Journal
and is available online. Additional information can be found at
https://www.cfa.harvard.edu/~dkipping/kepler421.html
.
NASA's Ames Research Center is responsible for the Kepler mission concept, ground system development, mission operations and science data analysis. NASA's Jet Propulsion Laboratory in Pasadena, Calif., managed Kepler mission development.
Ball Aerospace & Technologies Corp. in Boulder, Colo., developed the Kepler flight system and supports mission operations with the Laboratory for Atmospheric and Space Physics at the University of Colorado in Boulder. The Space Telescope Science Institute in Baltimore archives, hosts and distributes Kepler science data.
Kepler is NASA's 10th Discovery Mission and was funded by the agency's Science Mission Directorate.
Source:
NASA.Gov