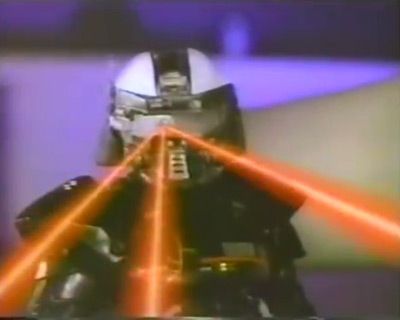 In a tradition
that started
six years ago today,
here's another Blog entry devoted to a TV show that I enjoyed watching when I was a
wee
middle schooler. It was a futuristic cop series called
Super Force
...which aired on KTLA
(Channel 5 here in Los Angeles)
and lasted only two seasons, from 1990 to 1992. Super Force is about a former NASA astronaut
(Zachary Stone, played by Ken Olandt)
who—after returning from a trip to Mars—becomes a police officer when he finds out that his brother is
(supposedly)
murdered. This man enlists the help of a scientist
(F.X. Spinner, portrayed by Larry B. Scott)
who develops an advanced armored suit that Stone wears as he finds the people who he thought killed his sibling
(who I recall revealed himself to still be alive in the Season One finale...and having his own Super Force suit to boot)
. Not only does Stone wear armor that can create its own force field and shoot lasers from a Boba Fett-type headpiece that lowers into place over his Master Chief-type helmet's visor, but he also drives a badass motorcycle while doing so.
It's too bad that Super Force didn't last long on television. I remember drawing the suit and motorcycle so many times during its first season
(when I was in 5th grade)
. I've been browsing online, but unfortunately, this show isn't
officially
on DVD. I found one webpage that sells a DVD
(which a couple of other fans apparently bought)
with the series burned on it, but I don't know if I should dish out cash for this disc and hope that the video quality will actually be decent. The seller is currently selling it for $24
(with shipping included)
, so we'll see. I've squandered my money on
worse
things...
So to sum things up: Super Force is
awesome!
Don't be surprised to see an artwork that I drew of this cool
Halo
/
Star Wars-y
vigilante on this Blog in the near future.
Happy First Day of December!